The Project | 1907 & 2006 images | Contact Us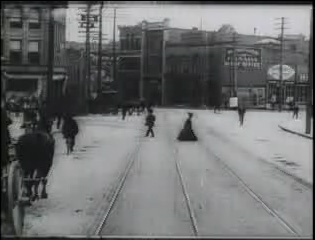 City Reflections is online. We sold out the production run.


Watch it on YouTube

The documentary contains the 53-minute main feature, which was shown on May 22, 2008.

This main feature is based on the earliest known surviving film footage of Vancouver, shot in 1907 by William Harbeck from the front platform of a streetcar as it made its way through the streets of downtown and the West End. Besides the main feature and 1907 film, it also includes a full-screen version of the same route in 2007. Many additional features round out the DVD including news items from 1907, interviews with film and streetcar historians, and more on the intriguing life of filmmaker William Harbeck who died in the Titanic disaster of 1912.

There is also a special film bonus showing Victoria in 1907. Harbeck shot the film just days before his Vancouver footage. This equally fascinating Victoria footage shows the Francis Rattenbury-designed B.C. Parliament building, the Empress Hotel under construction, downtown streets and views along the Gorge waterway.




© 2006-12 City Reflections
info@cityreflections.ca